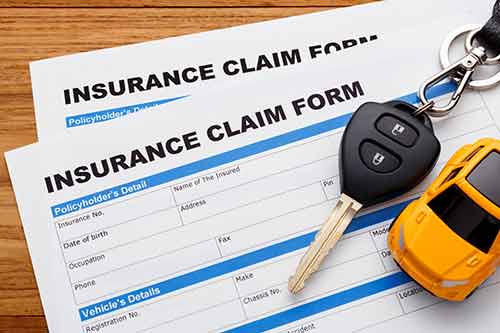 Form AB-1 Notice of Loss and Proof of Claim
Form AB-1 needs to be completed by you and sent to your insurance company within 10 business days of the accident. If you can't submit it within 10 days, you should do so as soon as possible. If you can't fill it out yourself, you can have an authorized representative do it for you
The purpose of Form AB-1 is for you to tell your insurance company the facts of your accident. This includes the time and place it happened, the injuries you suffered and whether you have started treatment. You also provide contact information for you and your primary healthcare provider, who is usually your physiotherapist or chiropractor.
Form AB-1A Claim for Disability Benefits
If you are unable to work as a result of the accident, you will need to meet with your doctor to be assessed. If your doctor finds your injuries prevent you from doing your job, they will fill out this form declaring that you are "totally disabled". You may then be entitled to income replacement of up to $600 per week, or 80% of your income, whichever is less. So long as you worked for 6 out of the last 12 months.
Form AB-2 Treatment Plan
This form is completed by your primary healthcare provider. They will diagnose your injuries, including whether you suffered a strain, sprain or whiplash. They will also describe the treatment you need, your recovery goals and the number of sessions they expect you will need to be healed. This should be done within 10 days of the accident.
Form AB-3 Progress Report
This form is completed by your primary healthcare provider at the request of your insurance company. Your insurance company requests this update from your healthcare provider if your treatment is continuing for longer than usual. Your healthcare provider will give details of the treatments you have been receiving, and an assessment of your current health status. This includes the location and severity of your injuries, pain and stiffness.
Form AB-4 Concluding Report
This form is completed by your primary healthcare provider. Up to 90 days after your accident or at the end of your treatment. It describes the number of treatment sessions you attended, the progress you have made and the status of your injuries. Your healthcare provider states whether they recommend that you continue treatment.
Form AB-5 Referral
If your injuries are not improving during treatment, your primary healthcare provider may refer you to an Injury Management Consultant (IMC). This is done to get a second opinion about your injuries. The IMC will examine you and give advice about your diagnosis and treatment options.
Moustarah & Company
Edmonton Personal Injury Lawyers – Car Accident Lawyer Edmonton
Call to book a consultation: 780-428-6565
Edmonton: 10150 100 St NW #400
Our 4 Tips on How to Make the Most of These Forms
On Form AB-2 and AB-4 your healthcare provider will describe not only what they observe about your injuries, but also how you describe your injuries, so make sure to provide as much detailed as possible of your injuries. It is helpful to keep a journal to document your injuries so you can refer to it before meeting with your healthcare provider.
On Form AB-4 your healthcare provider will list how many sessions you attended and how many you missed. If you miss sessions, this will make it seem like your injuries are not serious, which will hurt your case. So, make sure to attend all your sessions. Make sure to schedule sessions that you know you can attend. If you may not be able to make it to session, call in advance to re-schedule.
Your healthcare provider can request additional treatment sessions if they are required. If you have not fully recovered, you should say so. Don't feel pressure to end your treatment before you have fully recovered.
There are strict deadlines imposed for completing these forms. If you don't submit your AB-1 Form within 90 days of the accident, you will lose out on medical benefits.
A personal injury lawyer can help you navigate the claims process and help you get the most from your settlement. The experienced personal injury lawyers at Moustarah & Company will assess your claim and work to seek compensation from the at-fault party as well as provide a full and thorough explanation of the above important forms.
Contact Moustarah & Company to book a free consultation to evaluate your claim.
The information provided on this website does not constitute legal advice and should not be construed as such. Moustarah & Company does not guarantee that this information is accurate or up to date. As a result, should you require legal advice, please contact a lawyer.