The Moustarah & Company Team
Founded in 2007, Moustarah & Company provides legal services in the areas of personal injury and criminal defense. Our knowledgeable and experienced lawyers and excellent support staff, share a passion for providing exceptional service to our clients. We are committed to working for you to give you the very best outcome possible. We have an extensive knowledge of case law, and our excellent negotiation and litigation skills combine to settle personal injury claims in a manner most favourable to our clients and successfully defend clients facing criminal charges. You can retain us to deal with your personal injury or criminal defense matter. We are here for you!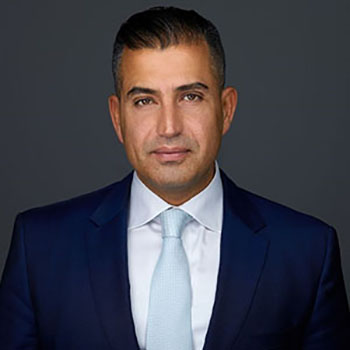 Practices Personal Injury, Criminal Law, and Civil Litigation.
A graduate of the University of Alberta Faculty of Law, Mr. Moustarah has successfully represented personal injury clients with injuries ranging from minor to severe. An experienced trial lawyer and negotiator, Mr. Moustarah uses his demonstrated passion, knowledge, dedication, and legal experience to advocate for his clients and to get results.
Fluent in English and Arabic, Mr. Moustarah has represented clients in court in many provinces and territories, even in the USA.
After receiving her Bachelor of Arts in English from Concordia University of Alberta in 2011, Ms. Haberstock completed her Juris Doctor at the University of Victoria in 2018, winning the 2018 British Columbia Law Schools Moot with her team.
Ms. Haberstock's passion for helping others drew her to the legal profession, where she hopes to utilize her strong oral and written communication skills to help people navigate Canada's legal system.
.
After completing only two years at the University of Alberta, Ms. Jassar was accepted into law school at a very young age. Ms. Jassar completed her Juris Doctor at the University of Saskatchewan in 2019.
Ms. Jassar has a keen interest in personal injury law and hopes to use her background in biological science and clinical research to assist clients on personal injury claims.