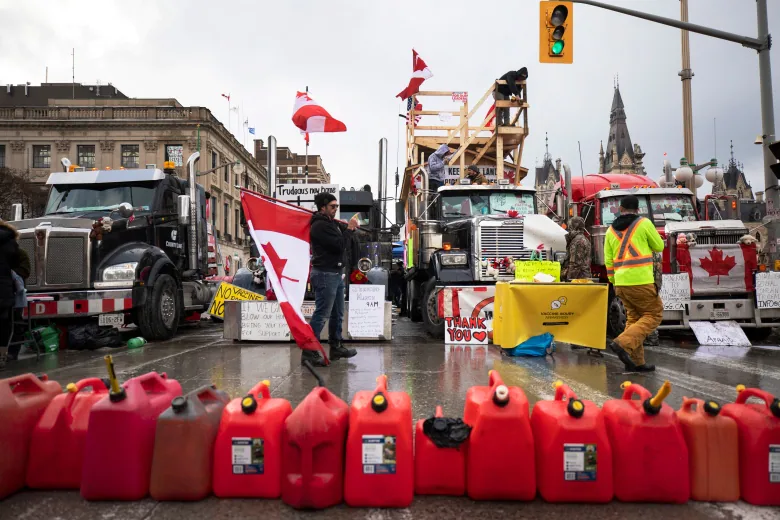 Under the Emergency Measures Regulations, very recently the Federal Government enacted law aimed at dismantling public assemblies that may reasonably be expected to lead to a breach of the peace.  This includes public assemblies like blockades that interfere with movement of persons, goods, or trade.  Several penalties, offences, and restrictions have now been enacted for those who participate.
Moustarah & Company
Personal Injury Lawyers Edmonton – MVA Lawyer Edmonton
Call to book a consultation: 780-428-6565
Edmonton: 10150 100 St NW #400
Some highlights of this new law are: 
[Please note that certain persons, (for example persons registered as Indians under the Indian Act and refugees), are exempt from at least some of the restrictions.]
1  It is illegal to participate in a public assembly, that may reasonably be expected to lead to breach of the peace by:
a.  Serious disruption to movement of persons or goods or serious   interference with trade
b.  Interfering with the functioning of critical infrastructure (e.g. hospitals, airports, bridges, etc.)
c.  Supporting the threat or use of violence against people or property
2  Children: it is now illegal to bring minors (persons under 18) to such assemblies and it is illegal to bring children to within 500 metres of such assemblies
3  Foreign Nationals are prohibited from entering Canada to participate in such assemblies
4  No one can travel to or within an area where such an assembly is taking place
5  It is illegal to provide or invite anyone to provide property to facilitate illegal assemblies.
6  Towing/removal service providers, if asked by the Minster or the RCMP, are required to remove, tow, and store any vehicle or other object that is part of a blockade; such service providers will be entitled to reasonable compensation.
7  Peace officers are entitled to take necessary measures to ensure compliance.
8  Failing to comply with the regulations can result in a fine of up to $5,000 or five years in jail, or both.
Additionally, the Federal Government enacted the Emergency Economic Measures Order.  This new Order requires entities such as banks, credit unions, companies, and societies to determine and report if they are in control of property held by a participant in an illegal assembly.  Such entities must cease to provide any funds, property, or currency to anyone participating in an illegal assembly.  They must not provide any financial or related services to participants in an illegal assembly.  The Order also specifies that entities cannot provide insurance for vehicles being used in illegal public assemblies.