So, You've Been Subpoenaed to Testify at the Trial of the Driver of the Vehicle Who Hit You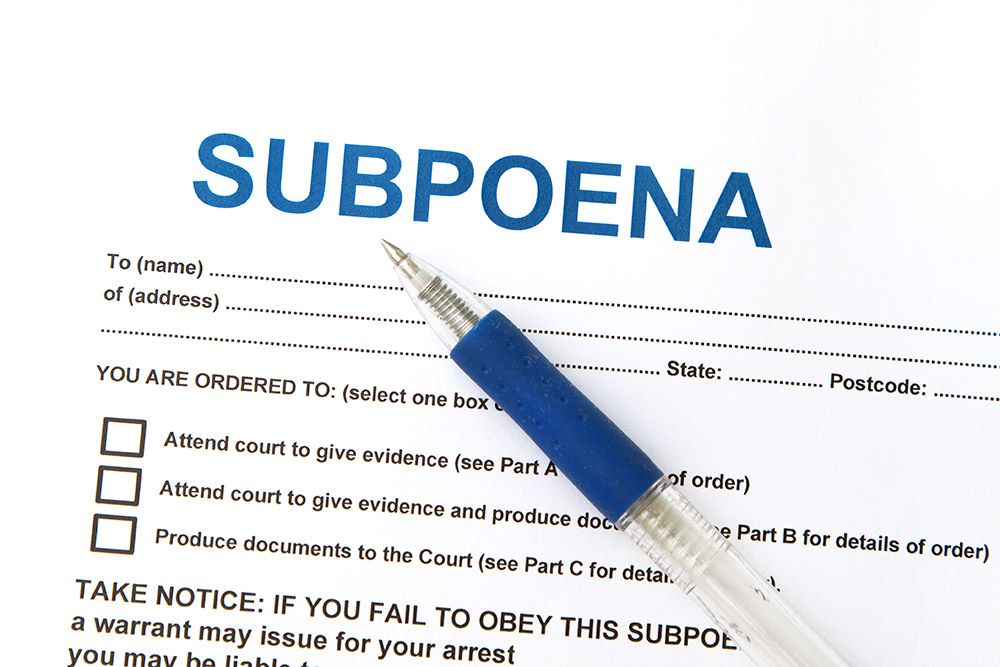 If you witness or were involved in a motor vehicle collision, you may receive a subpoena requiring you to appear and testify as a witness at the trial for any civil or criminal proceedings commenced in connection with the accident. In a civil trial, witnesses may be called by both the plaintiff and the defendant. In a criminal trial, witnesses may be called by the prosecution or by the defence on behalf of the accused. This post is intended to provide a brief explanation of what to do if you receive a subpoena and why it is important that you clearly understand the process you are being called upon to participate in. As a subpoena is an order from a court, it should not be ignored or brushed aside. Failing to comply with a court order can result in serious consequences including but not limited to warrants for your arrest being issued and/or charges being laid.  
I've Been Subpoenaed – What should I do?
Once subpoenaed, it is important to carefully read all of the instructions in the document as they will set out the specific date and time that you are required to attend, as well as the courthouse where the proceedings will take place. You may wish to contact the party that is calling you as a witness to ask any questions you may have about why you have been called, as they may be able to provide additional information about your attendance. Sometimes witnesses are required to bring documents with them to court to aid in their testimony. Employers are required to give subpoenaed witnesses time off from work in order to attend court and so it is important to promptly bring a subpoena to the attention of your employer if the time and date of your appearance will conflict with your work schedule. If you are unable to attend court on the specified date and time, you should contact the person who subpoenaed you immediately. As a subpoenaed witness, you still must attend unless specifically told by the issuing party that the subpoena has been cancelled and your attendance is not required. If a witness who has been subpoenaed fails to attend, the court may issue a warrant for their arrest. Always remember that a subpoena is a court order and subpoenaed individuals must attend court.
Appearing as a Witness
The Alberta courts have created a helpful booklet that contains further information on appearing as a witness which should be consulted if you are called upon to testify. Above all, it is vital to understand that the responsibility of a witness is to provide full and truthful testimony. Before testifying, witnesses are asked to swear or affirm that they will tell the truth. Lying to or intentionally misleading the court is an offence that may result in criminal charges.
What does this have to do with my personal injury claim case?
Appearing as a witness at the trial of the person who caused the motor vehicle accident at issue is an opportunity to tell your side of the story. A common issue in personal injury claims is determining who is liable or at fault for the collision. While a conviction for a traffic safety or criminal offence such as dangerous driving does not automatically mean that liability has been determined, it is a significant factor that can support a finding that the offending party is liable for the collision in any civil proceedings commenced for injuries and losses caused by the accident.
Under the Traffic Safety Act (Alberta), if someone is convicted of an offence, they have the onus of proving that their violation of the Traffic Safety Act did not cause the collision. Similarly, the Evidence Act (Alberta) allows a conviction to be considered in civil proceedings for bodily injuries suffered in a motor vehicle accident. It is therefore critical that injured parties who are subpoenaed fully appreciate the importance of the document they have received not only because of the need to comply with court orders, but also because of the potential impacts the trial they have been asked to testify at may have on their own claim for bodily injuries.  If you receive a subpoena in connection with an accident you were injured in, you should bring it to the attention of your lawyer immediately.
The legal system can be difficult to navigate and it is important to make informed decisions. If you or someone you know has been in an accident, our team of personal injury lawyers at Moustarah & Company are always available for a free consultation.
The information provided on this website does not constitute legal advice and should not be construed as such. Moustarah & Company does not guarantee that this information is accurate or up to date. As a result, should you require legal advice, please contact a lawyer.