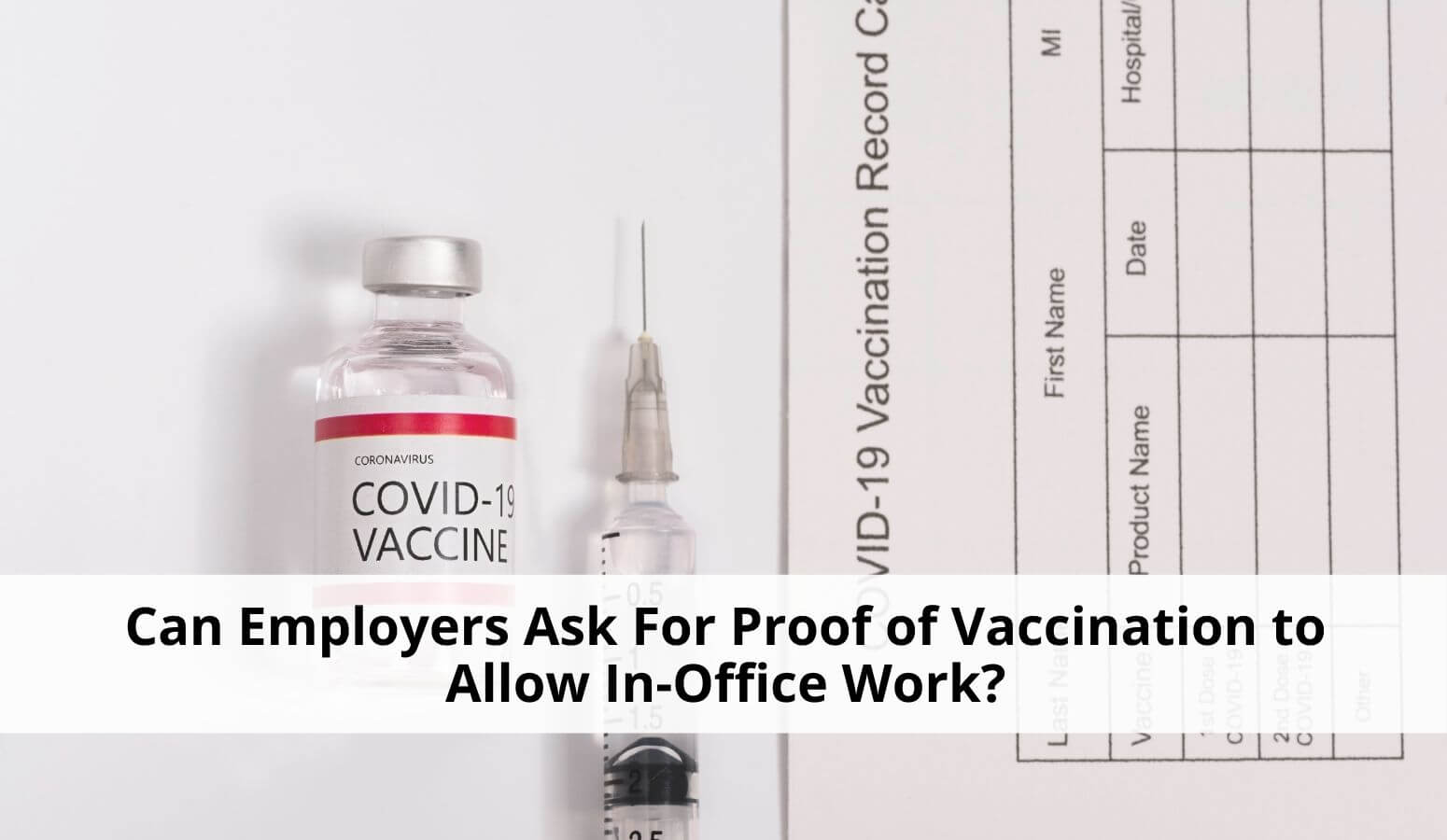 The COVID-19 Vaccine in the Workplace
Alberta's recent state of emergency and new vaccine restrictions have raised some questions for Albertans about the vaccine and the workplace. In this blog, we will explore how the law regarding vaccine requirements can affect you in the workplace.
The Vaccine and Your Employment
One of the big questions that many have after the government announcement and restrictions is can workplaces force their employees to get the vaccine? The question is not as simple as it may seem at first. Both employers and employees have certain rights and obligations that they must uphold within the scope of their employment. While this question has not appeared before the courts yet for us to have a definite answer, we will explore how the law might apply to this question.
Employers' Obligations
There are still many questions about if policies which require vaccination as a condition of employment are permissible. In Alberta, employers are obligated to protect the health and safety of their employers by law under the Occupational Health and Safety Act.
According to the government, COVID-19 is a known hazard which employers must address. Until now, that hazard was mostly controlled through PPE, sanitation, education and physical distancing, and physical changes to a workplace. The government has found that the most effective protection against COVID is in the form the vaccine, which is now widely available. As such, some employers might consider vaccination as another mandatory condition of employment to maintain a safe workplace, on top of the other hazard controls in place.
But making mandatory vaccination a condition of employment in a workplace to protect the health and safety of employees must be balanced against individual employee's human rights under Alberta law as well.
Moustarah & Company
Edmonton Personal Injury Lawyers – Car Accident Lawyer Edmonton
Call to book a consultation: 780-428-6565
Edmonton: 10150 100 St NW #400
Employees' Rights and Obligations   
Under the Alberta Human Rights Act, there is technically nothing preventing an employer from instituting a policy requiring vaccination as a condition to employment. The law permits that an employer can demand vaccination as a condition of employment with the consequence being termination. We already see many examples of policies that place health related conditions on employees in workplaces today that have been upheld by the law. For example, it is legal to test employees in dangerous workplaces for drug use regularly as a condition of employment.
However, this must be balanced against the Alberta Human Rights Act. This Act protects various groups against discrimination in the workplace on the basis of, to name a few, race, religion, gender, and age. Religion and disability are the two grounds which will be the most important when it comes to considering mandatory vaccination policies. An employer can have a policy where someone must be vaccinated to maintain their employment, but in doing so, they must also accommodate individuals who are protected on the basis of religion and disability.
For example, if someone is unable to get the vaccine because of a medical condition like an allergic reaction to vaccination, the employer has a duty to accommodate individuals in the workplace. If a sincerely held religious belief prevents someone from getting the vaccine, there is also accommodation that is required by the employer. Of course, there are always limits on the degree to which the employer must accommodate the employee. The accommodation does not have to be perfect, but the employers must accommodate their employees to the point of undue hardship.
What should you do?
The purpose behind this article is not to take a stance on what decisions you should or shouldn't make with your bodily autonomy or your employment. The purpose of this article is to provide you with important information that can help you make the decisions that work for you in the scope of your workplace. Despite whatever consequences may exist for you, it is important to be informed on your rights and obligations. There are two guiding principles that you should keep in mind.
Make sure you understand your rights. It is important to keep in mind your human rights, as well as your rights in the workplace.
Contact the Alberta Human Rights Commission at (780) 427-7661 (press 0) or through (https://www.albertahumanrights.ab.ca/Pages/default.aspx) and Employment Standards at (780)427-3731 (https://www.alberta.ca/contact-employment-standards.aspx) for updates. It is likely that the situation will continue to evolve, and it is important to know how the changes may affect you.