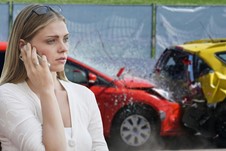 There are dozens of motor vehicle collisions annually at major intersections in Leduc involving pedestrians and other vehicles. Sadly many people are seriously injured or even killed due to excessive speeding over 130 km/hr or other negligent driving habits on the nearby highways such as Leduc area QE II and highway 2A. If you are a resident of Leduc, live in the rural county, or a commuter to the area and have experienced injury in a motor vehicle accident, here are the top 3 things you need to know.
 1. Know the steps to take immediately following a collision
If you've been involved in a car accident or motor vehicle collision in Leduc, following these steps can ensure your immediate and future protection:
5 Steps to keep you safe at the scene
Call 911 for an ambulance if anyone is seriously
Ensure personal safety. Do not stand near your vehicle in Turn on hazards and move to a safe location.
Document Scene & Collect personal information from witnesses and the other Always take photos!
Contact police and file a report for any injury, damage over $2000 or if a driver is Call them if unsure.
Contact your insurance provider as soon as possible and give them clear facts and details only
5 Steps to keep your future safe
Do not leave the scene if the collision has resulted in injury or significant property damage – wait for
Seek medical attention within 24 hours or as soon as possible for a proper assessment, even for minor
Never discuss fault at the scene, online or with Only consult with a personal injury lawyer.
Monitor your symptoms in coming weeks as injuries or severity are not always immediately
Repair your vehicle at a shop of your choosing if you prefer not to go with an insurer's
Top Tips:
Keep cones and flares in a vehicle emergency kit to alert other drivers in case of a motor vehicle collision. Know your insurance policy and ask questions if you don't understand your coverage. Seek legal counsel with a personal injury lawyer to discuss your rights and compensation for injuries. 
2.  Discover your rights to compensation
Many people refer to a motor vehicle accident (MVA) as a car accident and typically consider it an impact between two or more vehicles including cars, trucks, motorcycles or SUVs. You may also see this type of incident referred to as a motor vehicle collision (MVC). This term is often used to point out that collisions are often preventable and due to some form of negligence or illegal action. However it is important to note that if you were a pedestrian, cyclist or passenger injured in a motor vehicle collision you are still considered a victim of an MVA/MVC and may be entitled to compensation. This also includes being a victim of a hit and run or a collision with an uninsured motorist under the Motor Vehicle Accident Claims Program (MVAC).
Injuries associated with motor vehicle collisions can have damaging and often lasting impacts on a person's physical, emotional and mental health as well as impacts to their families and loved ones.
If you are considering a claim, it is highly beneficial to consult with a personal injury lawyer as soon as possible. A personal injury claim can often be made within two years from the date of your incident but delaying can decrease your access to vital evidence and medical care; this in turn can have a significant impact on the outcome of your settlement.
At Moustarah and Company we take these impacts seriously. We are committed to helping those injured in a MVA/MVC navigate all the complexity of the law to fully understand what compensation they are legally entitled to. We provide free initial consultations to anyone seeking legal advice regarding their personal injury. We are diligent in empowering injured persons to make informed decisions with all the options available to them. Your best interests are our primary focus because we work for you. If you choose to let one of our highly experienced, dedicated lawyers advocate for you, no fees are required until your claim is settled. We believe in supporting our clients to focus on recovery and not additional financial stress.
One of the most common forms of injury people associate with MVA/MVCs is whiplash but there are several injuries and types of trauma that can occur as a result of a motor vehicle collision. Our personal injury lawyers are highly skilled negotiators even should your claim go to court. We also have experience with understanding the legal processes associated with medical diagnoses to ensure you receive the maximum possible settlement for your case. In addition to whiplash injuries, we are highly experienced with many types of injury associated with motor vehicle accidents including:
Physical Injury:
Torn ligaments and tendons
Broken bones
Herniated discs
Back pain
Spinal cord injuries
Brain injuries
Chronic pain
Cuts, contusions, and hematomas
Mental & Emotional Trauma
Post-traumatic Stress Disorder (PTSD)
Depression
Driving anxiety
3.  Understand what to expect if you pursue a personal injury claim
Knowing what to expect can significantly increase your peace of mind during a stressful time of potential loss and recovery. Moustarah and Company have created a free brochure for you to refer to at any time which will answer many questions you may have about personal injury claims, the process and compensation. Here are some highlights of what you can expect when making a motor vehicle collision injury claim in Leduc.
What types of compensation might be included in my MVA/MVC claim? 
Damage or loss of your vehicle and personal belongings
Physical Injuries
Loss of capacity (housekeeping) and future quality of life
Income or job loss
Mental and emotional trauma
Pain and suffering
What is legally required to make a personal injury claim
Establishing fault is required when pursuing a third-party liability claim. This involves carefully gathering and reviewing the available evidence. You must be able to demonstrate that the collision was caused by another person's illegal or negligent action in order to have good cause to proceed. Evidence can include:
Details gathered at the scene from documentation, photos or nearby security cameras
Event Data Recorders which may be installed in newer vehicles to record collision data
Witness statements
Police reports
Medical reports
An experienced personal injury lawyer from Moustarah and Company knows how to examine the evidence thoroughly to build the best possible case within the law. We can advise you on required steps and explain what actions could harm your case. We will also deal with the insurance companies on your behalf to reach the best settlement possible for your case so you can be at ease.
How long will it take to receive financial compensation?
Finalizing a settlement depends on the severity of your injury and case complexity. If injuries can be confidently assessed sooner and are deemed not significant legally, your case may be settled within months. If severe injury or fatality is involved, you and your family will want to have long-term professional and medical assessments done to establish the full impact of harm.
Having a legal expert review your claim can guard you against being pressured into signing a settlement offer prematurely when long-term impacts are too early to assess. We understand the medical diagnoses required under the law to claim the full settlement you deserve; we will not rush our clients to a settlement that could cause regret, lack of access to future support, or financial hardship.
Since it is not possible to reopen your claim once settled, it is best to make your claim with a personal injury lawyer advocating for you every step of the way. You can be assured that at Moustarah and Company you will not be required to pay legal fees or expenses until your case is settled. Once your settlement agreement is reached it typically takes approximately six weeks for clients to receive their financial compensation.
If you have been injured in a motor vehicle collision in Leduc,our professional, compassionate team is on your side. Call to book a free consultation and connect with us today.